Translations
Quick Start Guide
SecureDrop is a system that lets people share sensitive information with investigative journalists anonymously and securely. Learn more about SecureDrop.
The SecureDrop Client is a component of the SecureDrop Workstation, a new tool to enable journalists to communicate with anonymous sources and manage submitted documents via their SecureDrop, while providing mitigations against malware and other security risks. The Workstation and its components, including the Client, are currently in a limited beta phase.
Both SecureDrop and the SecureDrop Client are written in English and translated into multiple other languages. Translations are managed using Weblate, a web platform that enables collaborative translation projects.
Getting help
If you're interested in helping with translation and have questions about anything in this document, here's how to ask for help:
Get started using Weblate
You can choose to register on Weblate with your email address, or by linking a GitHub account.
You can contribute to any language, and Weblate has some conveniences to make it easier to work with your preferred languages. Learn how to choose your preferred languages on Weblate.
Our Weblate instance only contains one project, SecureDrop, which has four translation components:
SecureDrop: The main SecureDrop web application.

desktop: The translations for the desktop icons of the admin and journalist workstations used by news organizations.

SecureDrop Glossary: Weblate's internal glossary for SecureDrop terms.

SecureDrop Client: The SecureDrop Client interface of the SecureDrop Workstation.

Once a string is translated, it must be approved by a reviewer before being accepted into SecureDrop.
Approved strings can only be modified by reviewers. However, translators can still suggest modifications and make comments if they notice something wrong. SecureDrop translations are a collaborative endeavour!
Glossary
Weblate contains an internal glossary for each language, to which we can add suggested translations. Learn more about using language glossaries on Weblate.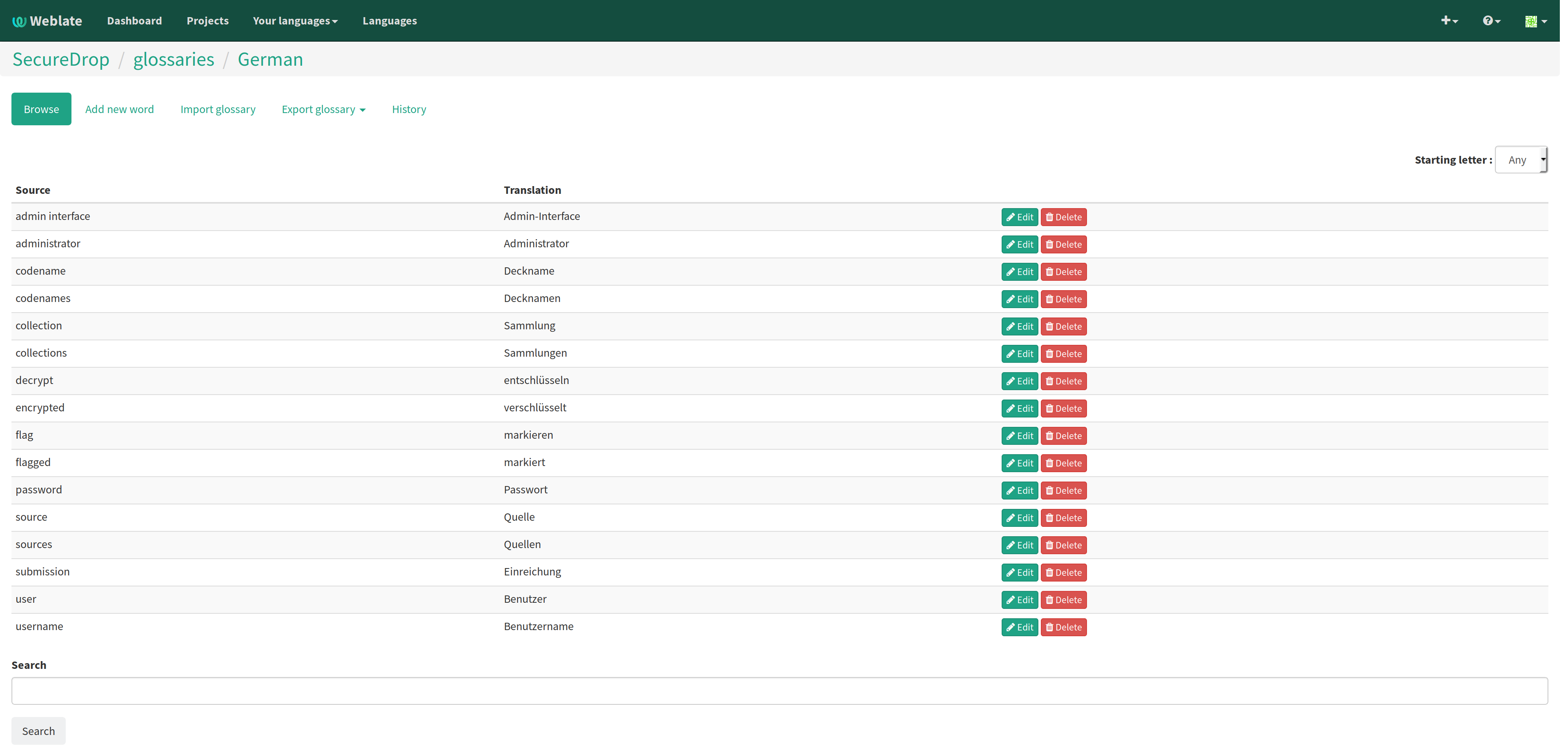 If a term is missing from the glossary for the language you're translating into, you can refer to the following technical glossaries for additional context. Then you can contribute to improving your own language glossary on Weblate by suggesting a translation yourself!
Additionally, here is a list of terms that are specific to the usage of Weblate for SecureDrop.
Reviewer
Reviewers are people who are trusted to review and accept new translations into SecureDrop. Learn how to become a reviewer.
Source string
On Weblate, the phrases being translated are called source strings. (No relation with the terms source and journalist in SecureDrop.)
Source strings are English phrases and are automatically extracted from SecureDrop's code. Because of that, they can only be modified by developers outside Weblate. Learn how to suggest changes to a source string.